How does the occupation of Crimea affect Ukraine's national resilience?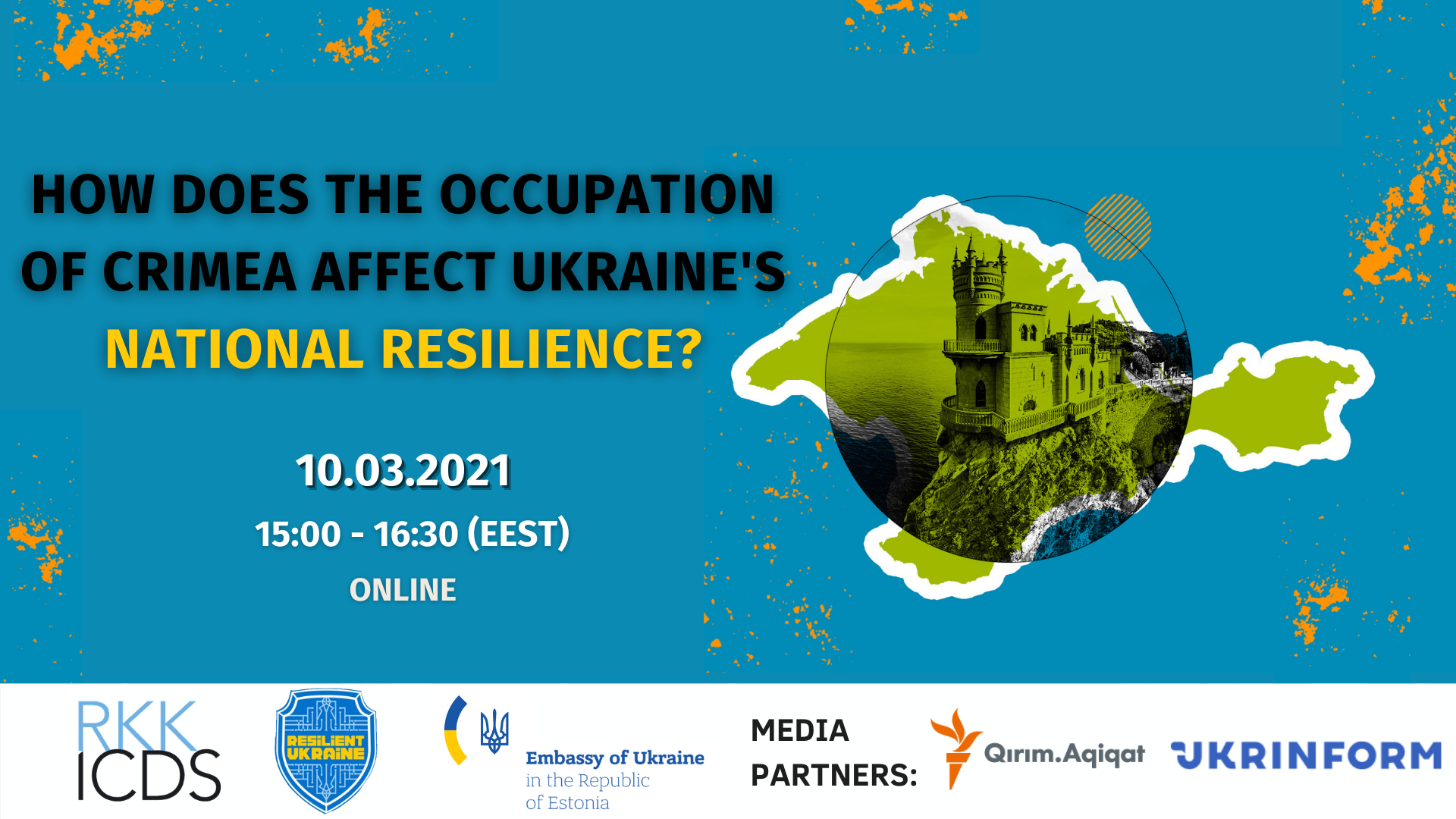 Join us for the panel discussion "How does the occupation of Crimea affect Ukraine's national resilience?" (10.03.2021)
Issues to discuss:
- The Crimean platform: what role should Estonia play during the summit?
- Passportization in Crimea: how does the process of obtaining Russian citizenship by Crimeans threaten Ukraine?
- Drafting to the occupying army: why does illegal conscription to the Russian Armed Forces give rise to growing disturbance?
- Impacts on resilience: how do Crimean-origin information operations by Russia threaten southern and eastern Ukraine?
Participants:
- H.E. Mariana Betsa, Ambassador Extraordinary and Plenipotentiary of Ukraine to Estonia
- Mr. Ihor Yaremenko, Deputy Minister for Reintegration of the Temporary Occupied Territories of Ukraine
- Mr. Marko Mihkelson, Chair of the Foreign Affairs Committee of the Estonian parliament
- Mr. Gert Antsu, Director of the Estonian Centre of Eastern Partnership, former Ambassador of Estonia to Ukraine (2016-2019)
- Dr. Evhen Tsybulenko, Law professor at Tallinn University of Technology
- Mr. Volodymyr Prytula, Head of the Crimean Desk, RFE/RL (Krym.Realii)
- Mr. Ibrahim Suleimanov, Head of Kherson city Majlis, Development Director of 'Kuresh' Crimean Tartar Cultural Centre
Moderator: Mr. Dmitri Teperik, ICDS Chief Executive (Estonia)/Programme Director 'Resilient Ukraine'.
Format: the event will take place online on the ZOOM platform and will be broadcast on the Facebook page of the 'Resilient Ukraine' programme. Please click here to register.
Languages: English and Ukrainian. Simultaneous translation will be provided.
Organizers: International Centre for Defense and Security (ICDS) within the framework of the 'Resilient Ukraine' programme in partnership with Embassy of Ukraine in the Republic of Estonia.
Media partners of the discussion: RFE/RL's Krym.Realii (Crimea Realities), National News Agency of Ukraine 'Ukrinform'.