"Resilient Ukraine" continues cross-sectoral crisis simulation exercises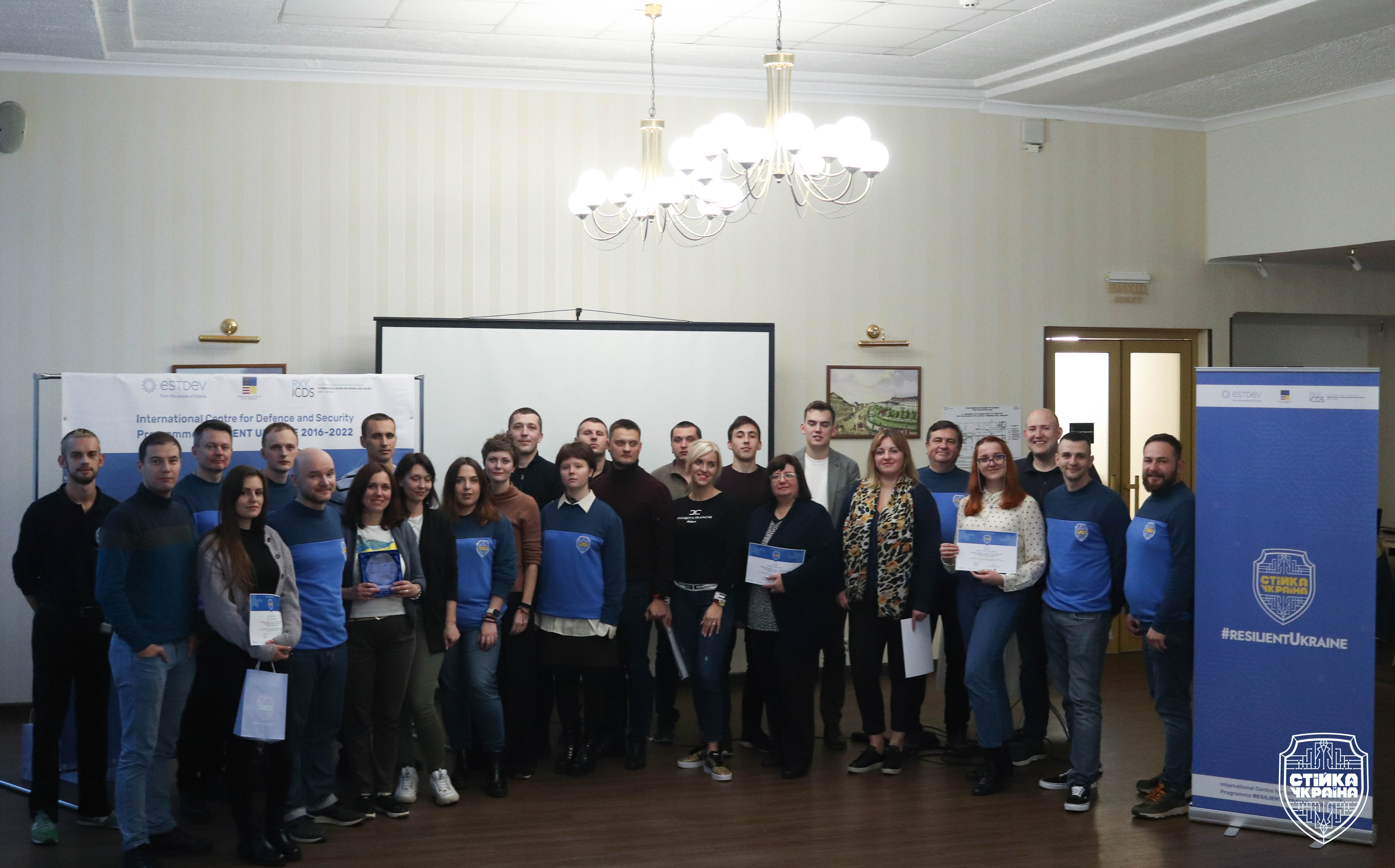 This time, the "Resilient Ukraine" team organized tabletop exercises within the project "Strengthening Ukraine's Societal Resilience through Building Regional Expertise and Analytical Capacity in Civil Security Issues" held in Lviv from 31 October to 1 November.
A diverse group of over 20 participants from various agencies and sectors took part in the simulation of a complex crisis situation. Among them were the representatives from the Lviv Regional Military Administration, the local City Council, the Main Directorate of the State Emergency Service of Ukraine in the Lviv region, and the Lviv Regional Council, as well as academia, civil society, business, and media representatives.
Dmitri Teperik, a chief executive of the International Centre for Defence and Security (ICDS) and "Resilient Ukraine" programme director, explained why it is important to hold such exercises right now. The format — cross-sectoral crisis simulation exercises — serves as a platform for joint learning that enables participants to share their knowledge, skills, and experience with each other.
"First, such exercises aspire to engage local experts, practitioners, and professionals from different sectors in decision-making and lay the foundation for the post-victory recovery phase in Ukraine," Dmitri Teperik said. "Second, the exercises help to 'package' the Ukrainian experience for the European 'market' because Ukraine has gained a lot of first-hand knowledge and practical skills in resilience-building. It is now extremely important to share it with our European colleagues," he added.
Mati Raidma, a project mentor, continued by saying that the main idea of the exercise was to shape trust and set team interaction patterns in order to spearhead communication among representatives of different sectors and equip the latter with the tools necessary to deal with real crises.
"It all boils down to cooperation. We tend to have excellent experts in our professional field," Mati Raidma said. "Despite having plans and know-how, the greatest challenge is always cross-sector cooperation: how to work together, how to support each other, and how to think out of the box. In the past two days, we were pleased to observe our participants learn and, hopefully, bounce some new ideas around, in addition to networking for their respective fields," she stressed Mati Raidma.
Another important detail is that the exercises allow for connecting representatives from various walks of professional life with a unique experiences, expertise, and background. Teamwork was a recognized priority for Iryna Palko, the head of the international technical assistance sector at the Department of international technical assistance and international cooperation in the Lviv Regional Military Administration.
"Only through cohesion, a team achieves positive results," Iryna Palko highlighted. "Everyone in our team acted within their competence and tried to be multifunctional, which enabled us to take complex and well-grounded decisions while reacting to certain challenges within the crisis scenario", she concluded.
At the same time, Volodymyr Teliuk, the head of the press service at the Lviv regional council, stressed the practical nature of the crisis simulation exercises, as well as the importance of cross-sectoral interaction, which lead to better resilience and cohesion.
"Horizontal communication and joint decision-making often produce effective and creative ways of managing complex crisis situations," Volodymyr Teliuk said. "Such format promotes resilience among public agencies and local self-governance bodies, as well as provides them with tools to engage and communicate with business, NGOs, and media representatives," he explained.
A representative of the European Union Advisory Mission Ukraine (EUAM) attend the cross-sectoral crisis simulation exercises in Lviv. EUAM provides support to its Ukrainian counterparts in order to expedite a sustainable reform of the civil security sector by offering strategic consultations and practical support.
Cross-sectoral crisis simulation exercises are two-day exercises based on crisis simulation scenarios. Creating an artificial, yet safe, learning environment is an important mechanism to practice tackling complex crises that involve cross-sectoral teams of participants.
The "Resilient Ukraine" team held such exercises in Sumy and Dnipro at the beginning of 2022 as well as in Chernivtsi and Ivano-Frankivsk in October 2022. The upcoming cross-sectoral exercises are to be held in the cities of Uzhgorod and Ternopil.
Reference:
The International Centre for Defence and Security (ICDS) is the leading think-tank in Estonia specialising in foreign policy, security and defence issues. We aspire to be the regional knowledge hub of the first choice for the security and defence communities of Estonia, its allies, and partners.
The "Resilient Ukraine" programme aims at developing standards for measuring Ukrainian society's resilience and continues to improve this system. "Resilient Ukraine" has been operated by the International Center for Defence and Security (ICDS) since 2016 with support from the Estonian Ministry of Foreign Affairs within the development cooperation programme.
The "Strengthening Ukraine's Societal Resilience through Building Regional Expertise and Analytical Capacity in Civil Security Issues" project is implemented with financial support from the U.S. Department of State Office of the Assistance Coordinator for Europe and Eurasia under the Eighth Round of the Development Cooperation Partnership (DCP) Program.